A gold mangalsutra is considered a very special ornament for any Indian wedding. It is just like a wedding ring in western culture. The mangalsutra is just not any ordinary necklace but this piece of jewellery has special importance for every bride. It is considered as the divine and eternal union of a husband and a wife. The gold mangalsutra is mostly given to the bride by the groom's family during the wedding ceremonies. The bride has to wear this mangalsutra for her entire life till her husband is alive.
This traditional gold jewellery is worn by the bride of every culture all over India but in India, every state has its own culture, and hence they have its piece of traditional gold ornament designs. Because of the cultural difference, every state has its type of mangasutra design but the purpose served is the same for all.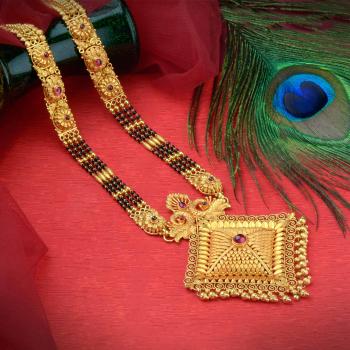 The mangalsutra word is the combination of two "mangal" which is a Sanskrit word meaning auspicious and "sutra" which is the string or thread. A traditional gold mangalsutra consists of a thread of black beads with a gold pendant which varies from culture to culture e.g., in Maharashtrian jewellery, the gold mangalsutra consists of a thread of black and gold beads connected with two gold hollow plates called "vatis". The two circular plates represent the man and woman and the black bead are to save the bride and her family from any evil eye.
But with this modernizing world, traditional gold jewellery is being replaced by their modern versions. There are various types of mangal sutra designs available in the market now. Ladies love to wear mangalsutras without compromising their comfort zone. Hence, the jewellers are bound to make the customized jewellery as per their customers' demands.
The various types of mangalsutras include a string of black beads with diamond or gold pendant sets. The black bead string can be single or double, plain or mixed with gold beads. The string can be long or short as per the demand of the customer. But traditional black beads are always included in any kind of design otherwise they will be considered just a simple necklace and not a mangal sutra.
Here are some tips about selecting trending mangalsutra designs for a bride. One must consider these points before the selection:
You cannot compare the beauty of a traditional mangalsutra with the modern ones but every piece of jewellery has its importance. As now you have a choice to customize your mangal sutra, you can customize it as per your selection of the outfit you are going to wear. If you love to wear western outfits, then a mangal sutra with smaller string and a sleeker pendant will be the best choice.

If you travel a lot and want to wear something shorter which does not tangle while travelling then go for the shorter string mangal sutras. You can also keep two sets of mangal sutras like an artificial or semi-precious one.

Always buy from a reputed jewellery store and always ask for a receipt.