Who's here a night owl and curious like me? Have you ever wondered what creatures of the night get up to while you're sleeping? If you are, then Singapore Night Safari is a must for you! Traditional zoos often disrupt the circadian rhythms of nocturnal animals, so that they are the most active during the day. But that is not the case at the Night Safari.
For those first-timers, the Night Safari's hours are shorter than the average theme park. so it makes everyone arrive at opening time. The result sometimes makes the ticket booth lines too long. I would highly encourage you to buy tickets in advance.
Booking Night Safari tickets in advance online may reduce the amount of time you'll spend queuing and help to avoid disappointment. You can always try Traveloka, a top-rated seller of discounted tickets and tours in Asia. They usually have the lowest price for single park Night Safari tickets and offer the option to buy add-ons such as meals and transportation. Ticket secured? Now let's move on as I'll uncover some sweet spots and guides to enjoy at Night Safari.
Arrive early for the fire show
When it comes to Night Safari, being organized travelers is the key, which is to arrive early and join the queue straight away. I'm glad that I did when I went there because I not only got the chance to see the Thumbuakar Fire Performance, but I was even let into the park early. All I gotta say is that being early always has its benefits!
You'll see the fascinating type of animals, like Elephant
Thanks to the breeding efforts of Wildlife Reserves Singapore, The Night Safari welcomed a ridiculously cute Asian elephant calf that has been released into the main habitat. Her parents are none other than Night Safari resident elephants Chawang and Sri Nandong, bringing the total counts of elephants at the park to 6. Asian elephants are known to shun attention, but this rambunctious calf enjoys playtime as much as a puppy and is said to be very active and curious!
Visitors can now see the little big baby at the Asian elephant exhibit at the park, but do note that you will have to hurry as she won't stay fun-sized for much longer!
Animals shows is a must watch
You may have heard that animal shows are lame, but it's truly not. Believe me, you all may have already sat through a long, boring show at some point in our lives,  but the one at the Night Safari is definitely not one of those.
It was intriguing to watch animals appear from seemingly nowhere and saunter up on stage on cue. Birds swooped just inches away from our heads and our very own otters somehow learned how to dispose of trash in a responsible manner. Truly an interactive and fun experience to go to. If things couldn't be better, there are also poignant messages on conversation weaved into the show that served as a good reminder to protect our environment on a daily basis.
Don't miss out on Walking Trails
You'll be sorely disappointed if you think that the Night Safari tram takes you to every single animal disclosure. It doesn't, in fact, you'll see more on two feet than you will on four wheels. Therefore, make sure you don't skip the walking trails – they are so much fun and you'll see a lot that you would miss out on by only using the tram services.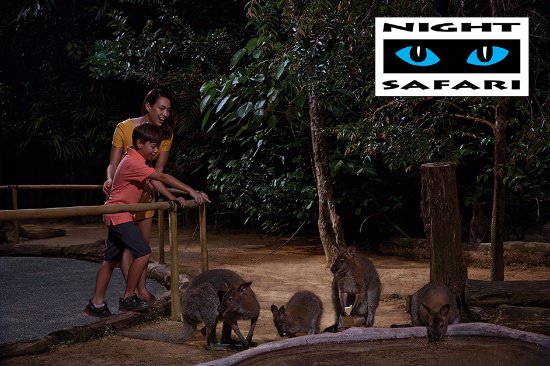 There are four walking trails in total, such as the Fishing Cat Trail, East Coast Lodge Trail, Leopard Trail, and the new Wallaby Trail. I walked at a leisurely pace around every single trail and it took me only 2 hours in total. It was simply an incredible feeling to feel like I had the park to myself – just me and the animals.
Squint Hard, look everywhere – The animals are lurking everywhere
The Night Safari covers 86 acres of rainforest, you could run the risk of missing out on seeing something if you don't use your Night Safari Map. And for the animals, some say that you could see the animals if only you own night vision goggles.
While the Night Safari is indeed dark, the enclosures are all intelligently designed such that the animals can get the privacy they need and yet just remain visible for enough visitors. Although some of the animals choose to sit front and center within their enclosures, others sometimes shy away into the shadows. But if you take the time to look and squint into the darkness, then you should be able to see most if not all of the animals. And once you have found one, its mates probably aren't too far away from it.
These are the 5 special things that I can spot during my experience back at Night Safari. I hope you find them helpful, but feel free to shout if you have any other questions about anything I may haven't covered. Till then, always stay safe!